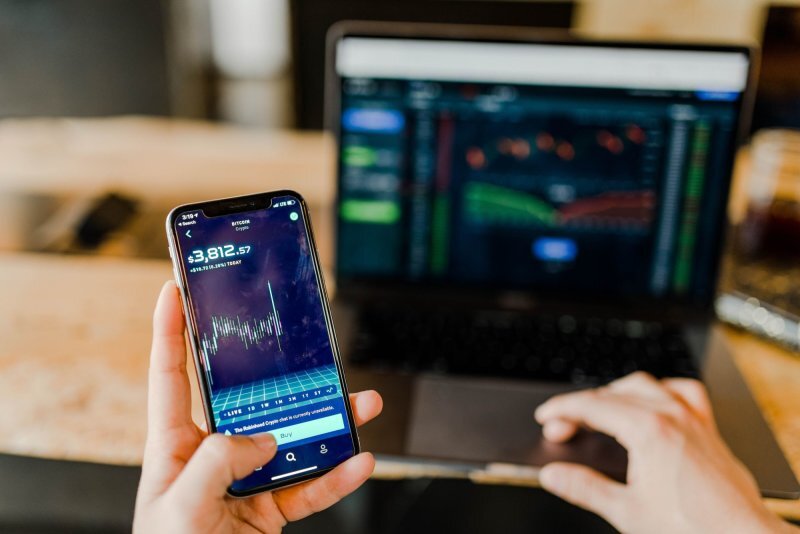 PERSONAL FINANCE PORTAL (PFP)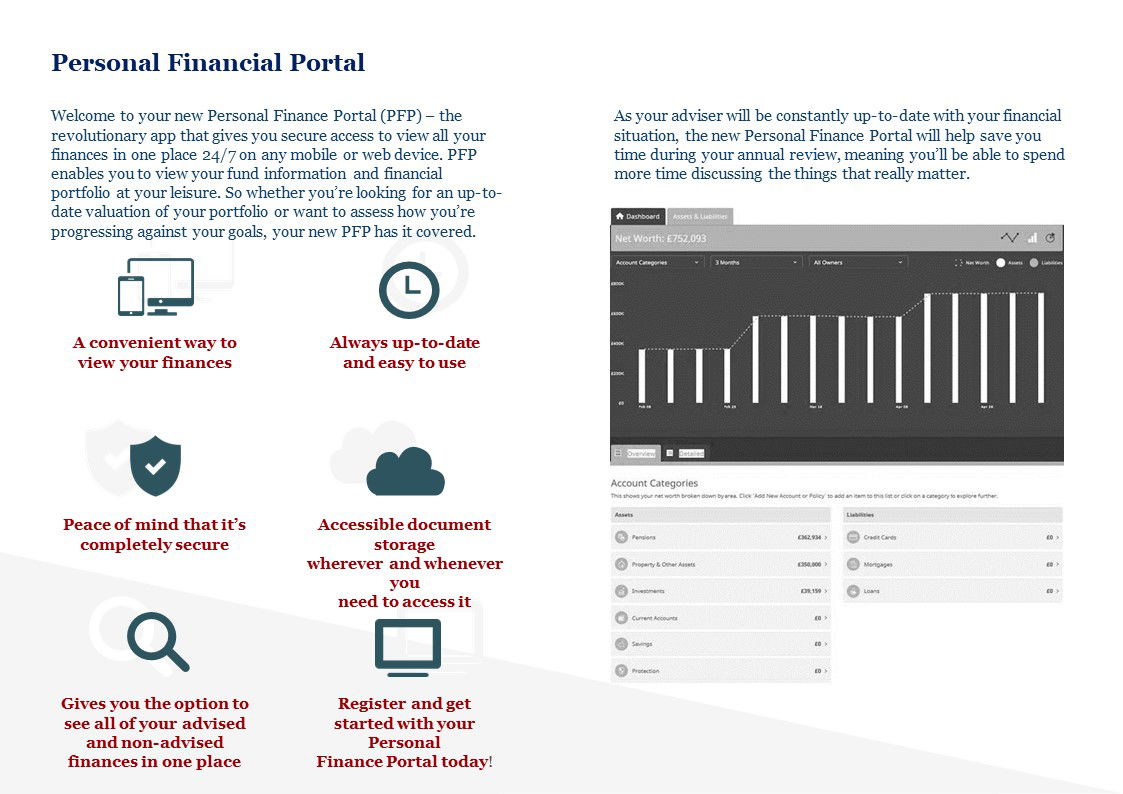 The Personal Finance Portal gives our clients an invaluable tool on which to view financial information and interact via a secure, online 'hub' anywhere and on any device.
Benefits to our clients include:
Supports regulatory requirements for information security by providing secure messaging between us
Allows our clients to view fund and portfolio details, get valuations and assess progress against investment goals
With Open Banking our clients can link bank accounts to the portal being in control of financial data
Makes client servicing cheaper by saving processing time, postage and printing costs
Strengthen relationships
Provides secure, online storage for all those important documents
It provides excellent communication, by using one or more of Messaging, Voice, and Video. During this engagement, we will be able to see exactly what you are seeing with CoBrowsing and, with your permission, will be able to take control of your mouse if you wish to have something explained or demonstrated and also share our screen.
Provides peace of mind, knowing that communication is timely and secure
Available for our clients 24/7 on a desktop, laptop, tablet and mobile phone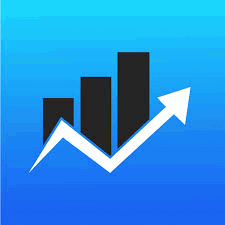 For access and registration using a desktop device click on the image below: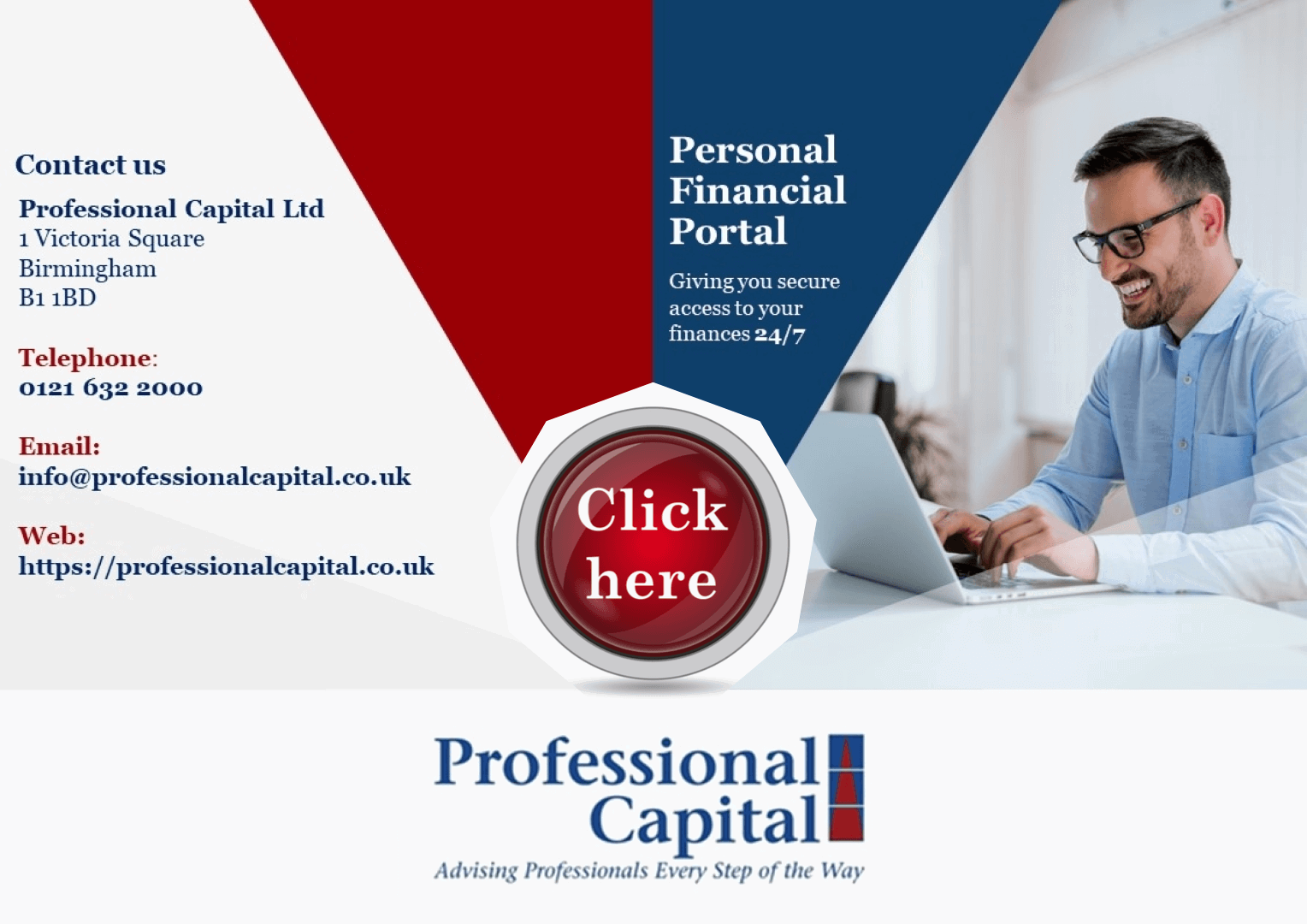 For access and registration using a mobile device follow the instructions below:
It is easier than visiting the app stores. You will need to visit the PFP homepage https://www.professionalcapital.mypfp.co.uk from your mobile device and you will see a "Get the app" button. Clicking this button will either install the app directly or show you the instructions to install (depending on your browser) which will then add the PFP app icon alongside your other apps. Please note that iPhone users will need to use the Safari browser to add the app. Android users can install it in Google Chrome. To install, follow the instructions and add the link to your home screen, so you do not have to type the PFP homepage address every time you want to access your personal portal.
CASH MANAGEMENT PORTAL
Benefits to our clients include:
The Platform enables our clients to very quickly ascertain the best value they can receive from their cash deposits.
Identify the value of one's cash and produce a generic report within 30 seconds
Build a bespoke portfolio of cash deposits, and produce a specific report, within minutes
Ensure all deposits obtain the maximum level of FSCS protection
Issue application forms within seconds of producing a bespoke portfolio
Communicate securely with with us regarding savings
Produce diary management notifications on maturing savings accounts
Produce financial strength reports on banks and building societies
Use savings calculators
Produce savings accounts reports for us
Remove interference from banks and building societies
In short, the platform enables our clients to take FULL CONTROL of their finances.
The savings accounts offered by UK based banks and buildings societies' are reviewed every 30 minutes to continually identify the best savings accounts to be used within the system
The platform automatically builds the most effective portfolio of savings accounts to meet our client's requirements
To log into our Cash Management Platform click on the image below: